OVERVIEW OF OUR SERVICES
Blakeslee Arpaia Chapman offers engineered construction services for bridges and dams, utilities, waterfront structures, and foundations, as well as rigging & millwrighting. Many organizations turn to us for heavy-duty construction projects.
Our licensed engineering firm provides expert work for all sorts of businesses in the Branford, CT area. We are a multi-faceted company that handles engineered construction projects in four main areas: Heavy Construction, Marine Services, Utility Construction, and Rigging & Millwrighting.
TRUST OUR TEAM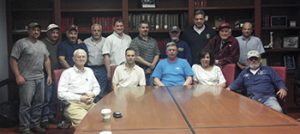 You can count on high-quality work with any construction project from BAC. We are a trusted choice for clients who need help with even the toughest jobs. We have the heavy-duty equipment necessary to complete challenging construction projects that call for the use of the largest trucks and equipment possible. These include road construction, bridge construction, foundation repair, marina installation, pier and dock construction, barge transport, trenching, pipe jacking, tunneling, transformer installation, heavy-duty hauling, and more.
Talk to the experts at BAC for assistance with jobs in any of our four divisions.  We have the resources and expertise your business needs to get your heavy-duty job done. Don't just choose anyone to handle your commercial or industrial needs; trust the team with the equipment and know-how to do the job right. Talk to BAC about heavy construction, marine services, utility construction, and industrial rigging and millwrighting services.