OUR COMPANY PROFILE
Blakeslee Arpaia Chapman began as a one-man contracting firm launched way back in 1844. Our specialty is providing engineered construction services throughout Connecticut, as well as nearby in New York and New Jersey. We provide construction services for a variety of clients, including large businesses and public utilities, as well as private clients. When it comes to massive construction projects featuring the use of heavy-duty equipment, BAC is the team to trust.
Blakeslee Arpaia Chapman's engineered construction services include heavy construction, marine construction, utility construction, and millwrighting and rigging. We provide these services for local municipalities, developers, schools, and other firms in need of help with their building or repair projects. Each project will be planned out in expert fashion and completed thoroughly by a skilled, knowledgeable team who will get the job done on time and on budget.
The History of Blakeslee Arpaia Chapman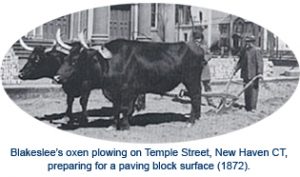 1844: Nineteen-year-old C.W. Blakeslee had a moving company, transporting household goods to the suburbs. He decided to haul soil and rock on his return trip to New Haven. Before long, his moving customers complained that their belongings got dirty during their transport; he decided to stop the household moving portion of his business. The company grew steadily under him and his sons until, by 1900, it employed 200 people and over 300 horses. During these years Blakeslee built dams, bridges, and roadways throughout Connecticut, Massachusetts, and New York.
1910: Installed one of the largest rock crushers of its time at a trap rock quarry in North Branford, CT.
1914: Blakeslee was a pioneer in cement concrete pavements, showing the way by paving the Milford Turnpike, in Milford, Connecticut.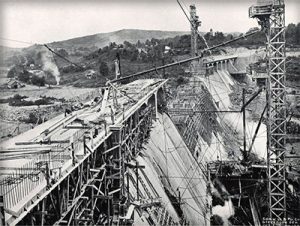 1918: Constructed Stevenson Dam on the Housatonic River, a CL&P hydro-electric development. The top of the dam carried the local roadway, now Route 34. The project required building a construction camp, complete with barracks, sawmill, and train.
1925: Constructed the North Branford Water Supply for the New Haven Water Company which included main and auxiliary dams, four miles of tunnels, and a fully equipped construction camp.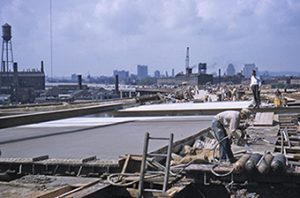 1955 – 1957: Worked as a subcontractor on the Pearl Harbor Memorial Bridge ( "Q" Bridge) in New Haven, CT, part of the Connecticut Turnpike, now I-95. Blakeslee constructed the concrete deck and parapets, along with other work.
1963 – 1965: Constructed I-91 through New Haven including bridges, retaining structures, roadways, and drainage.
1969: Blakeslee was purchased by Westinghouse Electric Corporation.
1976: A management group, led by employees Vincent Arpaia and Roger Chapman, purchased the construction arm of the company from Westinghouse, and renamed it Blakeslee Arpaia Chapman, Inc. ("BAC")

1980: Courtland Avenue Bridge (Rt 106) over MetroNorth Railroad, Stamford, CT. BAC removed the existing bridge truss over the electrified railroad lines by installing a temporary bridge through the existing bridge truss. The existing truss was cut in sections and slid along the truss of the temporary bridge to a point beyond the tracks, where the sections were cut up and removed. This procedure was done over a weekend and cut the construction schedule by six months.
1986: Vincent Arpaia retired from the Company, which is now solely owned by the Chapman family.
1990 – 1992: Excavation and site work at construction of Yale-New Haven Hospital's new Children's Hospital, New Haven, CT. Work included three types of underpinning: the Hayward Baker soil-crete system, chemical soil grouting, and a traditional pit method to support the existing hospital.

1996: Improvements to Bargh Dam in Greenwich, CT. Improvements for a 100-year flood included building a 1000' concrete wall 10' high on the existing earthen dam and a 150' ogee spillway, blasting, moving a large mass of earth, and BAC's first experience placing roller compacted concrete.
1999 – 2000: Pre-drilled and installed 3800 concrete-filled mandrel-driven piles and pipe piles, 30'-75' long for Pfizer's Global Research Center in New London, CT.
2000 – Present: BAC continues to be a multi-faceted company providing engineered construction services. See our portfolio for recent construction projects under Heavy, Marine, Utility, and Rigging & Millwrighting.